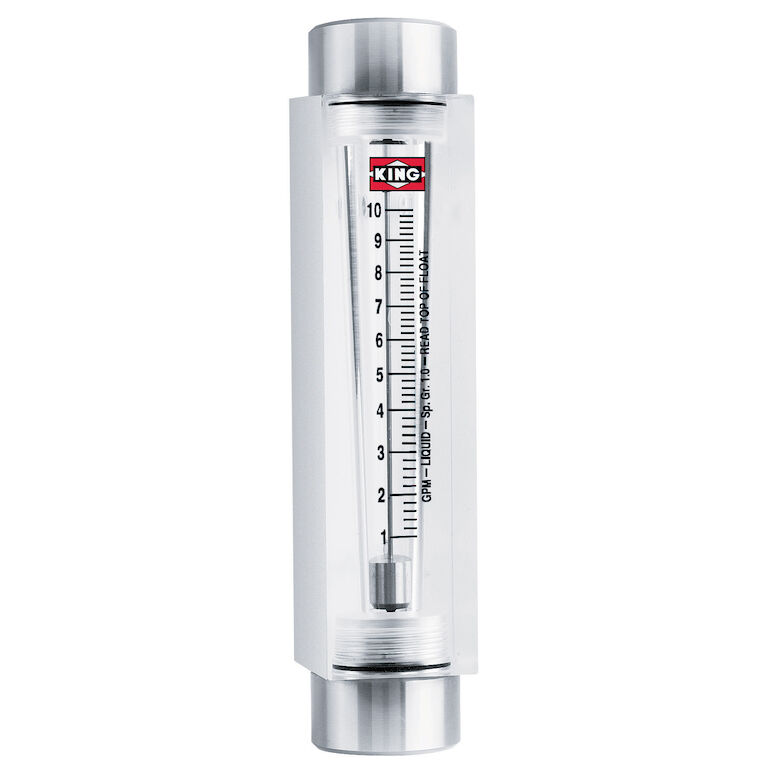 Precision Machined Acrylic Meter
Block Type, Panel Mountable
In-Line Connections
Suitable for OEM applications
Air and Water models available
The King 7510 and 7511 series are a low cost and economical acrylic tube variable area flow meter offering a direct reading flow scale. Scales have a white screen printed back for easier readability.
All internal components are 316L stainless steel with a standing fitting material of PVC with 316L stainless steel and brass an option. Fittings are available in female NPT with a vertical connection.
EPR O-Rings are standard with an option of Buna N or Viton®.
Flow scales are available in fives sizes with a choice of 50mm, 65mm, 100mm, 127mm and 250mm.
All models have a 10:1 turndown ratio with accuracy varying from ± 2% to ± 6% of full scale flow dependant on flow scale size.
Repeatability also varies by flow scale size, from 0.5% to 3%.
Maximum temperatures are up to 54°C for liquid models and 38°C for gas models. Operating pressures available up to 8.6 bar.
Liquid models are available with full scale flows from 0.45 litres per minute to 76 LPM.
Gas models are available with full scale flows from 2.6 standard cubic feet per hour to 60 SCFM.
Scales are available in any volumetric unit.
Model numbers
K.7510212A-01
K.7510212A-03
K.7510212A-05
K.7510212A-11
K.7510212A-13
K.7510212B-03
K.7510215B-02
K.7510215B-03
K.7510215B-04
K.7510215B-06
K.7510215B-08
K.7510216A-01
K.7510216A-02
K.7511112B-05
K.7511112B-06
K.7511112B-07
K.7511115B-01
K.7511115B-03
K.7511115B-05
K.7511236A-03
K.7511312B-02
K.7511312B-05
K.7511312B-08
K.7511315B-01