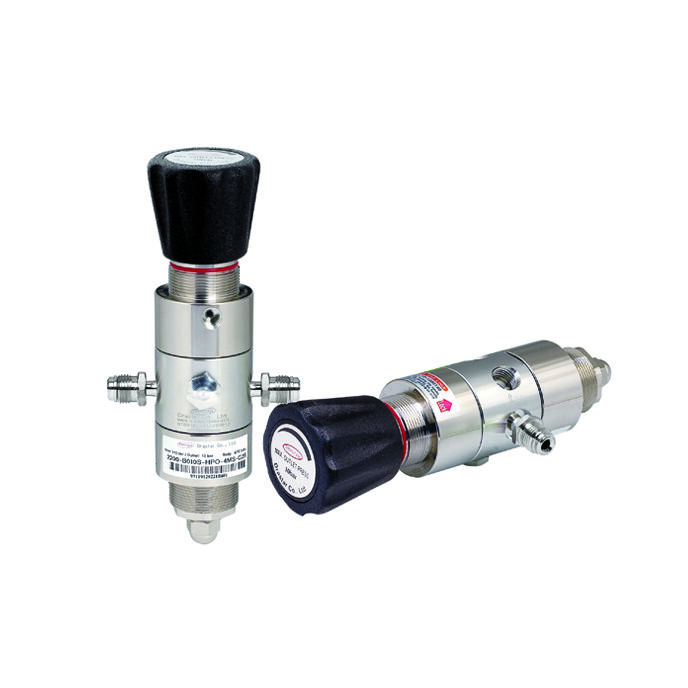 For use with ultra high purity (UHP) gases
Electropolished surface treatment
5, 10 or 25 Ra surface finshes
Series 2200 pressure regulators from Drastar are a two stage, low pressure reducing regulator designed specifically for use with ultra high purity gases.
All manufacturing processes such as cleaning, welding, assembly, testing, and packing of series 2200 pressure regulators are performed in a class-100 and class-10 clean room.
Standard materials of construction are 316L stainless steel, with the option of 316L VAR (double melt) stainless steel. Surface finishes available are 5, 10 or 25 Ra
Electropolished (E.P.) surface treatment of the 2200 series also makes it suitable for use within corrosive gas applications.
The two stage pressure regulator is for use with a maximum 250 bar (3600 PSI) inlet pressure.
The outlet pressure range can be controlled to:
.1-2bar (1-29PSIG)
.1-5bar (1-58PSIG)
.2-7bar (5-1000PSIG)
.2-10bar (10-145PSIG)
.2-15bar (10-220PSIG)
Series 2200 is available with either a ¼" H.P.I.C, or ¼" (male or female) gauge port options.
Process connections available also include ¼" H.P.I.C, or ¼" (male or female) as well as tubing stubs.
Series 2200 has a 316L stainless steel diaphragm as standard with the option of Hastelloy-C.
Seat material options include PCTFE, Teflon or Vespel
Drastar's regulators are oil-free, with all pressure regulators being assembled, cleaned, inspected, and packed in clean-rooms equipped with clean bench, helium detector, particle counter, ultrasonic cleaner, ultrapure water system, vacuum packaging machine.
Model numbers
2200-x002x-xxS-xMS-FxS
2200-x004x-xxS-xMS-FxS
2200-x007x-xxS-xMS-FxS
2200-x010x-xxS-xMS-FxS
2200-x015x-xxS-xMS-FxS
2200-A002S-Hxx-xxS-FxS
2200-B002S-xPx-xxS-FxS
2200-B002S-xTx-xxS-FxS
2200-B002S-xVx-xxS-FxS
2200-A002x-xxx-xxS-FxS
2200-B002x-xxx-xxS-FxS
2200-C002x-xxx-xxS-FxS
2200-D002x-xxx-xxS-FxS
2200-E002x-xxx-xxS-FxS
2200-A002S-HpS-4MS-F2S