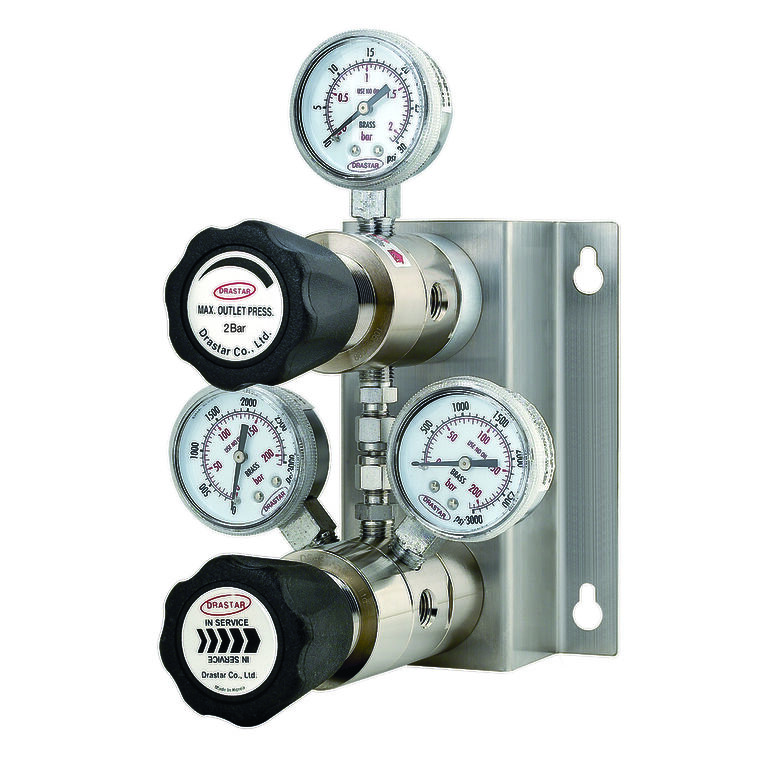 The AC700 series from Drastar is an automatic changeover pressure regulator and system which is able to provide high flow gases from both cylinder or supply lines. The supply is continuous and stable and has been designed for wall mounting and accepts supply pressures of up to 250 bar (3600 PSIG) and will provide an outlet pressure of up to 20 bar (290 PSIG).
AC700 series is a precision changeover pressure regulator suitable for hospitals, pharmaceutical lines, research and academic labs and is suitable for cylinder gas delivery or bulk gas lines.
Standard outlet pressure ranged are 0.1 – 2, 0.1 – 5, 0.1 – 10 or 0.1 – 20 bar. All pressure ports are ¼" NPT as standard with a Cv value of 0.2. Hastelloy-C diaphragms are available as an option for compatibility with corrosive gases.
The automatic changeover from cylinder (or gas line) 1 to cylinder (or gas line) 2 occurs when the pressure in that cylinder drops below a pre-determined pressure.