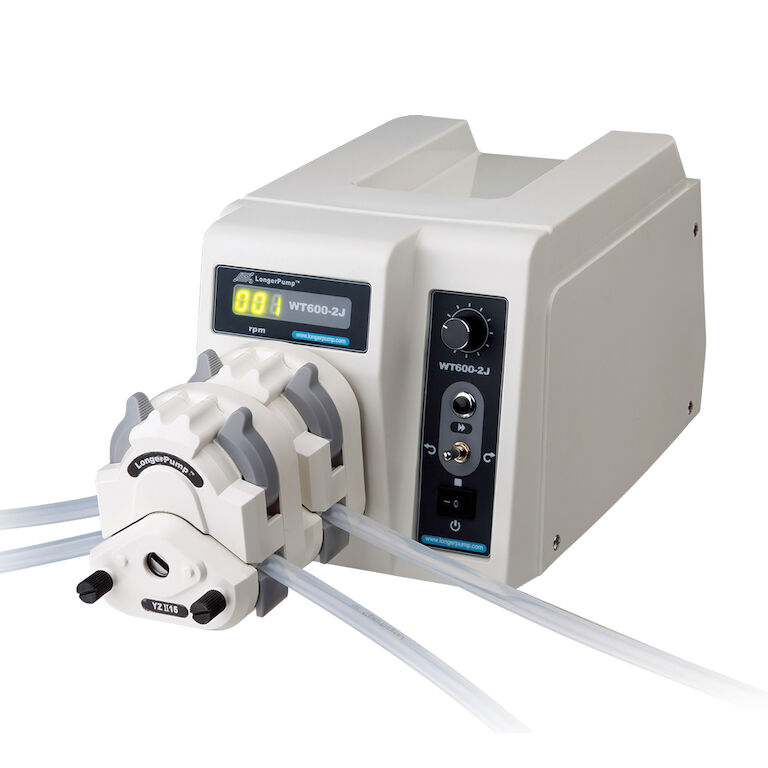 Ideal for laboratorial applications
Pump speed up to 600 RPM allows higher flow rates
Can accept two pump heads for two channel processes.
The Longer WT600-2J series of basic pump builds on the BT600-2J pump and can allow for two pump heads to be fitted.
The WT600-2J offers higher pump speeds of up to 600 RPM and can be controlled in 1 RPM increments with a speed accuracy of ≤±1%.
Dependant on tubing used with the pump, flow rates can be achieved up to 6000 mL/min per pump head. As dual pump heads are permitted, the WT600-2J is capable of delivering fluids up to 12000 mL / min into the process.
The local display and keypad allows for easy control of the pump, functions include speed increase and decrease as well as direction of flow.
External set point input can allow the pump to be controlled via analogue inputs such as 0- 5 VDC, 0 – 10 VDC, 4 – 20 mA or 0 – 10 kHz.
The RS485 communication protocol can also be utilised to control the pump.